As you can see C& G Ayres have been in Reading a long Time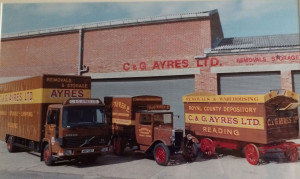 The picture shows a Horse drawn van .We  totally restored by us using lots of different craftsman from around the whole country.
It was found by a employee of the company in a field at Beenham near Reading – and took over ten years to restore.
The middle vehicle is of a restored 1932  Morris commercial, which has taken part in the Commercial London to Brighton Run on several occasions.
The much newer Vehicle is one of the Volvo trucks which we have used on a daily basis for many years and we have stayed loyal to Volvo to this day.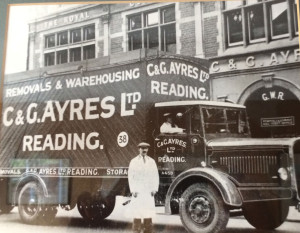 The two pictures are of the old Friar Street Office in Reading.
Where the furniture was stored and the horses were kept in stables at the rear of the building.
This building no longer stands and made way for part of a shopping precinct.